TARZAN'S JUNGLE REBELLION (1967)
D. William Witney. Stars: Ron Ely, William Marshall, and Nichelle Nichols.
1967...
As Sergio's Leone's DOLLARS films and other operatically violent European westerns found theatrical success in the United States, it became obvious that the traditional American B-western was falling out of favor with audiences.
Political strife at home and an unpopular war abroad left cynical moviegoers hungry for a more pessimistic take on Manifest Destiny, and the early films of Leone, Segio Corbucci and Daminano Damiani provided it. The Mexican Revolution was a recurring motif in these imports, and was frequently viewed through a leftist political lens (some would even describe the P.O.V. of such films as Damiano Damiani's A BULLET FOR THE GENERAL as Marxist).
Although he had just directed one successful Audie Murphy western (APACHE RIFLES) and would soon be prepping another (40 GUNS TO APACHE PASS) William Witney was well aware that the clock was running out on the genre to which he was so closely associated. Fortunately, he had long established a second career as a prolific and effective director of episodic television, so when the opportunity to create the pilot for a reboot of the classic TARZAN franchise for producer Steve Shagan and NBC beckoned, Witney didn't think twice about signing on.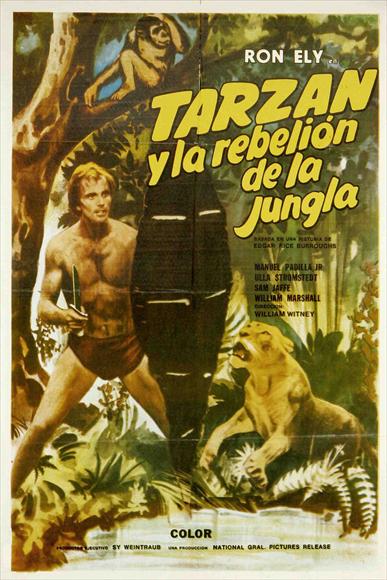 Given Witney's reputation as a gifted director of serials, the filmmaker was an ideal choice to helm the new series. The new show reinvented Tarzan (effectively played by popular television actor Ron Ely) as a thoughtful, well-educated gentlemen, one who chooses to return to the jungle where he had been raised after growing tired of "modern civilization."
Under Witney's guidance, the pilot retained many of the iconic aspects of the classic TARZAN movies, including Cheeta, while excluding others (including, to the surprise of many, the character of Jane), and the snappy dialogue provided by writer Jackson Gillis (whom Witney had met while working on the THE WILD, WILD WEST) kept the action moving at a frenetic pace.
Gillis' clever storyline followed the search for a stolen idol among members of a mysterious African warrior tribe, a plot which Witney brought to life with the help of such soon-to-be famous genre staples as William Marshall (BLACULA) and Nichelle Nichols (STAR TREK).
The result of the Witney / Gillis collaboration, TARZAN AND THE BLUE STONE OF HEAVEN, so impressed the NBC brass that they chose to delay its broadcast and release it theatrically (through National General Pictures) as TARZAN'S JUNGLE REBELLION on September 6th, 1967 instead. The movie would subsequently perform well as matinee fodder for months before being aired in two parts later in TARZAN's second season.
Following the release of TARZAN'S JUNGLE REBELLION, Witney would team up with Audie Murphy for 40 GUNS TO APACHE PASS and Gillis would go on to write for such shows as COLUMBO before penning a pair of well-received novels. Steve Shagan's career would follow a similar path, as the prolific writer/producer would receive an Academy Award nomination for adapting THE VOYAGE OF THE DAMNED for the screen before publishing such popular novels as SAVE THE TIGER and CITY OF ANGELS.
Despite Witney's input and participation, TARZAN would last only two short seasons. Once he hung up his loin cloth, Ron Ely joined his former collaborators on the literary front, a move which saw him publish two detective novels, NIGHT SHADOWS and EAST BEACH. Ely would retire from the screen in 2000, after slyly spoofing his persona with Gena Lee Nolin on the TARZAN-esque SHEENA TV series.
Well-made throughout, TARZAN'S JUNGLE REBELLION coasts like a rollercoaster car on an even track, delivering the classic pacing, action, and humor of Witney's classic serials on a small-screen budget.